Where God, Anchovies, and Flamenco Reside — Two Tales of Jerez
by Lisa Alpine
Flamenco was a fire I did not want to stick my hand into, yet there I sat in the front row at the club, just a foot away from the dancer poised on the stage. Her muscular back was turned to the audience, the floor-length ruby-red dress embroidered in roses clinging tightly to her, cinching in her narrow waist. With her black hair pulled into a sleek ponytail and an enormous silk chrysanthemum crowning her head like a Wimbledon hat, she was reminiscent of a super-feminine Frida Kahlo in flamenco garb.
Slowly, silently, she pivoted, raised her arm, and pointed an accusatory finger at the audience.
That jabbing finger said it all: cheater, heartbreaker, unfaithful lout!
You! You! And you! 
I knew she wasn't pointing at me specifically (I'd never even seen her before, after all), but my instinct was to duck and cover from her scorching glare.
Far from finished, she lowered her arm. She was just warming up. A guitarist and singer joined her onstage.
Then came the decisive moment: she clawed at the hip-clinging skirt, pulled it up her thighs with lacquered fingernails—and began to dance. The guitarist's hands blurred in a strumming fury as the dancer's feet pounded out the beat. The singer's eyes bulged as he hit a high note.
I squirmed in my seat.
During intermission Jordan, my partner, leaned toward me, waggled an eyebrow, and asked, "Don't you want to take a lesson?"
***
That is the reason I came to Jerez—to study flamenco with a teacher who might consider taking on a visiting foreigner. The performances I'd seen in California were lovely, cultural events that included large portions of paella and pitchers of sangria. The Parisian cabaret where I'd been introduced to flamenco 45 years ago had been a hoot. No one had looked as if they wanted to stab me or stomp on my face with their heels. Theatrical—yes—but in a more romantic, friendly way.
The invitation came in an email from a man I'd never met. "Would you like to stay at my apartment in Jerez de la Frontera in Spain? Jerez is the cradle of flamenco and I've read your stories. Dance plays an important part in your travels and Jerez is undiscovered in this regard. Stay as long as you want."
And I did. For six weeks. Jordan came with me as he not only loves to travel, but to dance, too.
We arrived in May by train from Barcelona. Atico, as our sponsor called his getaway apartment, was perched on a rooftop patio in the old barrio. Atico means penthouse in Spanish. We were surprised when we turned the key and a cozy man-cave greeted us. Our host had a sense of humor, it seemed, for he had installed Wild-West-style swinging barroom doors that hit my behind and propelled me into the bathroom—before the morning coffee kicked in.
Out the windows swallows churned through the air, swooping over the tiled roofs and circling the myriad church steeples that punctuated the skyline. Bells clanged from all directions, announcing the time on the quarter-hour. There was no need for a watch in Jerez and also no need to travel far. Every site and activity was a short walk away from the Plaza del Arenal—a plaza so elegant it was fairytale book perfection, with parades of towering royal palms and a mirthful fountain featuring the requisite conqueror on a nostril-flaring horse rising from the spray. The small river stones used to pave the promenade around the square were mosaicked in a wave pattern. As Jordan and I sat on our favorite bench we wondered how old the polished pebbles were. How many generations of well-dressed people of Jerez have clicked their heels on these stones?
We chose that bench not just for the view, but because it was the only place we could get a Wi-Fi signal. While the locals sauntered and nodded to each other, we were checking email. Flocks of little girls in miniature flamenco outfits and stubby-legged boys with red scarves tied around their waists stumbled and ran around their parents' legs. Grandfathers who passed holding hands with their cherubic grandchildren would tsk and shake their heads when they looked at us glued to our iPads.
After our daily communications, we'd follow the stream of families to a nearby ice cream store. As Jordan and I crowded around the glass case with all the children to drool over the vats of luscious creaminess, the owner leaned across the counter above the kids' heads. In a conspiratorial whisper, she said in Spanish, "I have a special flavor every day, which I keep in the back—it is not on display. Today is orange and cacao. It is my most favorite. You should try it."
The small scoop was black as tar and it crowned a homemade waffle cone. Back on our bench in the plaza, we licked—and our eyes popped in surprise. This was the yummiest bittersweet, tangy, candied ice cream ever. Ever. Ever. Its potent flavor reflected the intensity of the dark-eyed people of Jerez. I can see why the lady didn't want to serve it to the kiddies: this was adult ice cream. Sexy yet bitter—flamenco in a cone.
Almost everyone who swirled past us on the plaza was worthy of a good stare. Nattily dressed elderly couples strolled past us arm-in-arm—the men decked in tailored suits, pocket handkerchiefs, watch fobs, Borcalino hats set at jaunty angles; their matronly wives in calf-length dresses and patent leather handbags. The younger women were mannequin-perfect with smooth complexions, their flamenco dresses emphasizing curves. Yes, full on flamenco regalia: lace-edged skirts trailed on the stones, florid fake flowers topped their heads, and giant loop earrings skimmed their shoulders. These getups would look garish on women of any other heritage but here, as they fluttered around us on the plaza—getting on buses, standing on street corners, shopping at the Mercado Central—the effect was superlatively peacock. Jordan and I were like guppies in our Target attire. Puzzled, we wondered, had we landed in a 24/7 flamenco costume party or maybe a Carlos Saura movie set?  Didn't anybody in Jerez wear regular clothes?
After we finished our ice cream, we went into a flamenco dress emporium to see what these ensembles cost. Maybe I would get one, even though I knew I'd probably look ridiculous.
"What's with all the polka dots?" Jordan asked.
"No kidding," I said. "I thought the only women who could rock polka dots were Audrey Hepburn and Marilyn Monroe."
Hundreds of ruffled, floor-length dresses in every bright color and pattern (screaming roses, zigzag stripes, and giant polka dots) hung limply on racks. Without women filling them out, pressing against the diagonally cut seams, these garments were tacky and lifeless. I'd seen dresses make a plain woman gorgeous in, say, Paris, but never witnessed a woman make a gaudy dress shout Olé! I left empty-handed. These flamenco outfits were pricy—between $300 and $1,000 apiece—and would never fit in my wheelie bag.
The next day, during our daily gawking session on the bench, an old man in a fedora sat down beside us. "You are not going to the Feria del Caballo?" he asked in Spanish. "La feria más importante de España. Women, dancing, tapas, lights. And the horses! They are Pura Raza Español, a breed whose ancestors have lived here for thousands of years. You must go. There is nothing to do in town. Everything is closed during the feria. Even the banks. And the fair is free."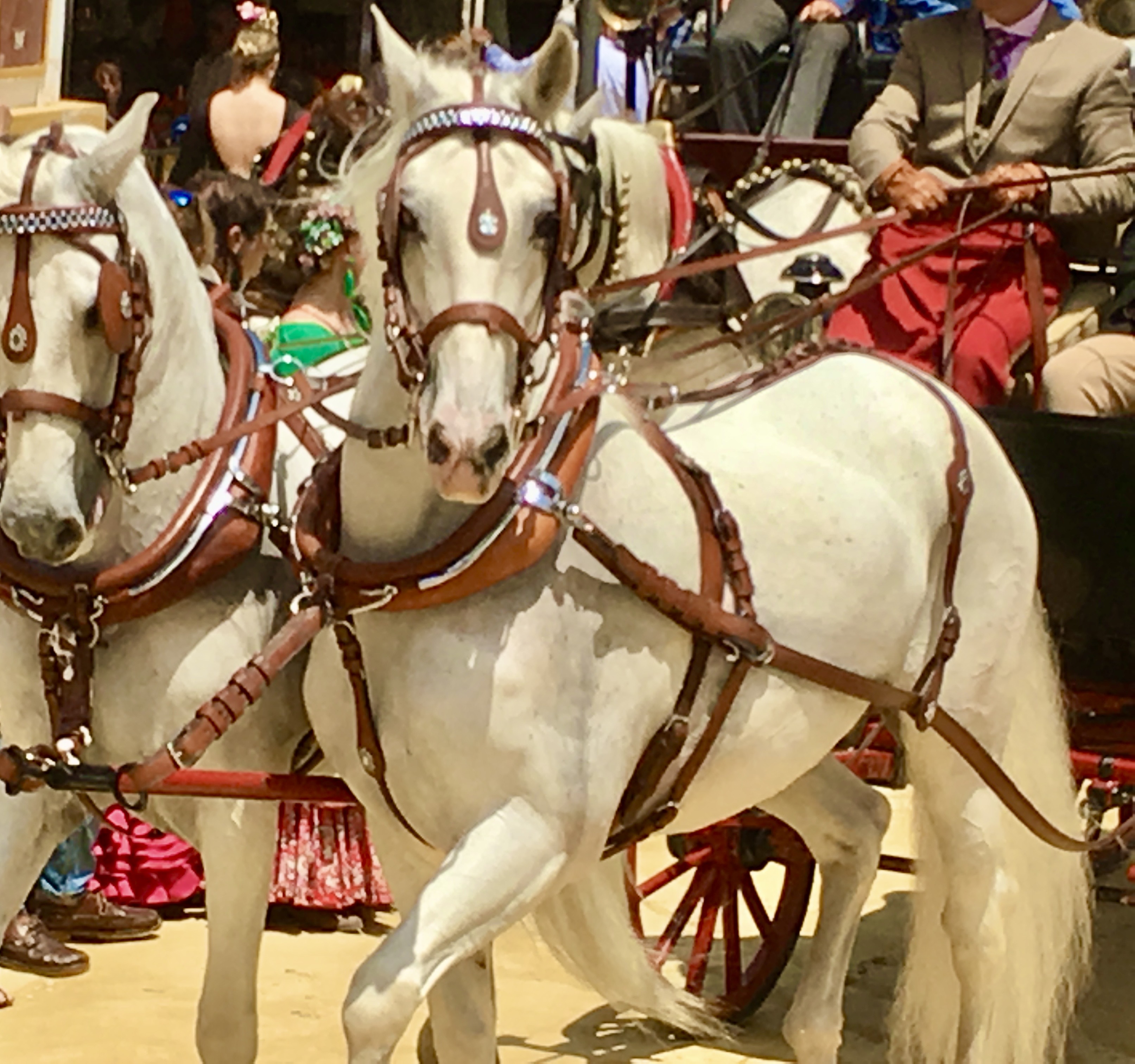 "Qué es una Feria del Caballo?" I asked, looking at him quizzically. "Vamos!" he exclaimed as he grabbed my hand and motioned for Jordan to get off the bench. He led us to a bus stop teeming with costumed fair-goers.
As we bumped out of town in the standing-room-only public bus, our tour guide explained that the horse fair is held annually at the fairgrounds, where the entire population of Jerez descends for a week to promenade, eat tapas, admire the famous Andalusian horses bred and trained locally, and dance the Sevillana.
After fifteen minutes, the bus stopped and everyone poured out toward the ornate fairground gates. Our new friend tipped his hat and said, "Don't just sit like birds on a wire; try dancing the Sevillana. Sevillanas are danced by couples of all ages and sexes during celebrations, often by whole families and towns. It is very graceful—not like the ferocious flamenco danced in the clubs. It is the elegant spirit of Spain."
Families and businesses sponsor cafes, or casitas, where a dance floor is laid down, tapas are served, the patron pours drinks, and people pack in from noon to midnight for those seven days. Normally, the casitas at the feria are closed to outsiders, but in Jerez you can shove into the crowd and mingle—dancing to salsa, reggae, rap, reggaeton, or joining a group Sevillana. The music style depends on the generation that sponsors the casita.
Everyone was dressed to the nines. Darting this way and that, throngs of women blurred into Technicolor schools of tropical fish, using their fans for exclamation-point-like rudders. The men strutted behind their shoal in tight toreador-style jackets, broad-brimmed felt hats, and highly polished boots with a slight heel used to make a masculine stomp when doing the Sevillana.
We were anthropologists studying a culture preserved in amber. Even many of the modern women wore the exact mode of dress and adornment that their mothers, grandmothers, and great-grandmothers had donned. Fringed shawls concealed their cleavage and bodices, and thick eyeliner and six-inch heels punctuated all this finery. Shiny, coal-black hair in ropy curls snaked around their shoulders. Some of the younger women had elaborate tattoos on their backs of flowers, vines, jungle birds, and butterflies, revealed by their low-cut dresses.
Women danced with women, children danced with their grandparents, flirtatious couples roistered around each other. And all around them, spectacular Andalusian horses circled the fairgrounds, pulling ancient carriages piled high with bouquets of women who waved and snapped their fans at friends and hooted at paramours.
The feria lured us back every day and late into the evening. Did we rise up off our seats and dance the Sevillana? No, but we did edge into the smiling crowds and salsa when salsa was being played.
When the feria ended, the locals Cinderella-ed back to everyday apparel, their multitude of costumes packed away until next May when the Feria Del Caballo would take over Jerez yet again.
***
The tabancos reopened, and we now had a new world to immerse ourselves in—flamenco shows.
Until I arrived in Jerez, I had never heard the word tabanco, so I asked the owner of the café downstairs from Atico what it was.
He set down a café manchado (coffee stained with milk) and told me that they were small neighborhood venues that sold tabacco, tapas, and drinks. They also were a place singers, dancers, and musicians could congregate and jam. Many were gypsies living in the barrios. Not too long ago, he went on, the streets were empty and the tabancos had to shut due to a recession, but recently there had been a resurgence of interest in them from the younger generation, who wanted a place to socialize and celebrate their heritage. So now, every afternoon and evening the streets of Jerez teemed with crowds drinking beer, sherry, or wine, and eating tapas. It was an affordable way to mingle.
Every block in our barrio had a tabanco, and many offered flamenco shows during the afternoon and evening. Locals also brought their guitars. Someone rapped a beat on the tabletop, guitars were liberated from their cases, and everyone joined in the ballad. No one was texting or calling. No one was taking a selfie. Everyone was actively involved in the cacophony of music and boisterous conversation punctuated by animated hand gestures.
The intimate twelve-tables-plus-a-bar Tabanco Cruz Vieja on Calle Ramón was our favorite, and just a few doors down from Atico. For an eight-euro cover charge we experienced a larger-than-life immersion into the passions of roiling guitar strings, syncopated clapping, flurrying skirts, and stomping heels. How the small wooden stage held up under their fury, I had no idea. Every show was different and each performance topped the one before it.
On our regular Sunday afternoon visit, we were at our usual table right in front of the stage—almost on the stage. Seated next to us was a man with a palm-sized, cross-eyed furball of a dog who was not fazed in the slightest by the noise. It was too busy scarfing paper-thin jamón serrano slices his owner dropped surreptitiously under the table. This pet really liked its tapas and yipped whenever the supply dwindled.
The man gave us a once-over. "I don't see Americans here very often. May I buy you a drink?" We talked about Jerez and flamenco. Something pulled at my pant leg and the man tossed the pooch an anchovy to keep it quiet before saying, "These people have an unfair advantage over us foreigners." He was from Belgium and his daughter was studying dressage at the Royal Andalusian School of Equestrian Art in Jerez. "Look at the babies in the strollers. When they hear flamenco, their feet kick to the beat of the music—before they can even walk. How can we expect to learn this at our advanced age? The pregnant mothers keep time on their bellies, so their babies come into the world with rhythm."
The waiter, a handsome fellow with a lock of hair draped over one eye, managed to set down armloads of tapas on the postage-stamp-sized table for us to nosh—shrimp fritters, Mediterranean anchovies, triangles of aged cheese, pork cheeks in sherry sauce, and grilled peppers. I could hear excited snuffling from under the table, but I was not going to give any of these delicacies to the little beggar.
A glass of sherry appeared. "Buena medicina," the waiter said, and nodded his head at the caramel-colored liquid.
As soon as he left, I turned up my nose. "I don't like sherry; it reminds me of cough syrup. My grandmother drank sherry."
Jordan said, "Sherry is a fine drink if you're a well-behaved woman. And you're sitting in a parlor."
I gave him a look. Wise ass. "Which I am not."
But to be polite, I took a tiny taste—and instantly changed my tune. It was dry yet creamy, with hints of cinnamon and almonds. Jerez is the Spanish word for sherry and bodegas (cellars) are all over town. The aging sherry barrels seep vanilla-oaky scents that hang over Jerez in an aromatic cloud. This glass of palo cortado sherry was the perfect pairing with tapas.
The Belgian saw the expression of delight as I took my second sip. He told us that palo cortado means "cut stick," in reference to the mark made on the cask when this style of wine is being made. Palo cortados are derived from finos or amontillados, which are marked with a single line. When, during the wine-making process, the vintner determines that the fino or amontillado is instead becoming a palo cortado, he draws a cross—or a cut—through the initial stroke—or stick.
This guy knew his sherry!
I loved our olive-eyed waiter. From that moment on during our twice- or thrice-weekly pilgrimages to Cruz Vieja, he would ceremonially place a palo cortado in front of me, along with the savory tapas du jour. All this was included in the cover charge. And he always said with a wink, "Buena medicina!" before he dashed off to serve other customers.
The dog settled itself under the legs of the Belgian for a nap, and just as a seared, salted pepper slid down my throat, the performers entered—a guitarist, a singer, and the dancer.
The guitarist thrummed and the singer wailed. The dancer turned stiffly toward us, smacked her palms together, and eyed us skeptically. As she threw her head back, the music accelerated and her footwork took off, skimming the stage pockmarked from a history of percussive heels. The dancer's spine curved into an indignant arc. She was excruciatingly beautiful.
Incredulous, I gulped down an oily anchovy. The flamenco dancer raged and twisted, storming across the stage to the vocal howling of the singer, whose neck veins swelled as he squeezed painful notes from his throat. His face turned pomegranate.
Still terrified by the dancer's fiery glare, I chanced a look around me. The Belgian was right about kids absorbing the music by osmosis: a gypsy girl stood in the aisle next to us, snapping her fingers and holding her arms overhead, imitating her mother onstage. Her brother sat nearby on a banquette, tapping on a soda can to the pulse of the guitar.
As the blistering guitar notes subsided, the singer stopped and looked down at his feet. The dancer unfurled her fists, dropped her skirt hem, and turned to smile upward toward heaven where God, anchovies, and flamenco reside. Her kids clapped and hooted their applause even louder than we did.
It was fortunate Atico was nearby, as the performance had exhausted us. We needed a nap.
On another night, the featured tabanco performance was a memorably robust male dancer, tall and fair, in a tan business suit and seriously sexy snakeskin boots. When he came out on the stage, he loomed over our table.
The giant flamenco dancer leapt with both feet into the air like an angry toddler. He crashed down, snapped his fingers, and shouted, "Olé!" Then, in a tornado of passion he performed a high kick, just missing knocking Jordan's hat off.
"Subtle is obviously not part of his repertoire," Jordan hissed, ducking down.
The dancer landed on the stage with a deafening stomp and another triumphant "Olé!" He was Bruce Lee and Nureyev combined. Our jaws hung open at this man's athleticism and spitfire footwork.
Why couldn't we just sit in the back? I wondered. It felt like we were in the middle of a karate film. The dancer thrashed his arms up and down, flipped his sweaty curls out of his eyes, and stared fiercely at us while jackhammering with his feet. His stage name could have been Raging Bull. Alarmed, I watched the plate of pork cheeks slide across our table. Our glasses rattled. The dancer was on a tear. We couldn't avoid him as our table edge was one inch from the stage.
A placard with my name on it had reserved this intimate and intimidating seating. After the first show or two like this, we tried to sit at the bar, which was a good 30 feet away from the stage, but before my derrière had landed on the bar stool, the proprietor came at me like a freight train, grabbed my elbow, plucked the placard from behind the cash register, and firmly escorted us to our VIP position in the front. There was no escape.
I had no idea why he considered us important and worthy of display. The waiter descended with piles of food and drinks we hadn't ordered but voraciously consumed. Flamenco gave us an appetite—even though we were just observers.
Over the course of several weeks, we became acquainted with Theigo Vazquez, the organizer and guitarist for most of the shows at Cruz Vieja. He must have had connections with every great performer in Spain, because the lineups were always stellar.
At intermission one night, I sat next to Theigo at the bar. I had some burning questions to ask him about flamenco. He seemed quite calm and relaxed, a sharp contrast to his stage persona.
"Are you a gypsy?" I asked. I'd always fantasized about being a gypsy.
He smiled gently at me. It was a beautiful smile. "Of course," he said. "Flamenco is in my blood, on my father's side. My mother is Brazilian."
"Ah, that's where your saudade eyes come from." In Portuguese, saudade means a mix of sadness and paradoxical joy derived from acceptance of fate. I found myself staring longingly into those soulful, obsidian eyes framed by luxurious lashes.
As he gazed back at me kindly, I felt emboldened. "I have another question for you. What does olé mean?"
Theigo reflected on the question as he fiddled with a cigarette lighter and said, "I can't completely explain this magical moment when we give ourselves to the music and share this feeling together. Olé is when you feel that connection. Olé is a call of recognition from the soul."
"Why is the style so painful? So sorrowful?"
"Flamenco is like your American blues. You have B.B. King; we have El Caracol. Even the lighter alegrías are sad—yet you are crying with happiness."
Suddenly, I sensed a restlessness behind us. We both turned. The dancer was pacing the stage. Theigo put down his beer with a bow, picked up his guitar, and joined his tribe.
As I returned to my seat, Jordan waggled those bushy Groucho Marx eyebrows at me again and asked tauntingly, "So, what about that lesson?"
As the guitar strings growled to life before me, I contemplated the realities of learning flamenco. I had witnessed the intricacies and steps at the club and realized my improvisational way of absorbing and integrating new dance forms was not going to work with this highly technical form of dance. I shuddered to think of what would happen if I tried busting a move at the inappropriate moment during a stern class, and frankly, I'm just not pissed off enough to dance flamenco. Shouting and stomping are not part of my personality.
So this time, I had an answer for him. "These dancers have daggers for eyes. I'm more of a sixties flower child."
For once in my life I felt it was okay to sit and watch and clap. To cry out an "Olé" along with everyone else. To sip palo cortadosas these masters of dance commanded our attention, their heads thrown back in timeless defiance.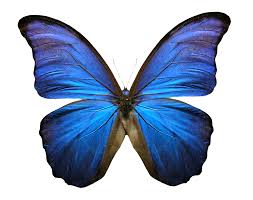 This story is included in Lisa's book Dance Life: Movin' & Groovin' Around the Globe.
About the author:
When not wrestling with words, exploring the ecstatic realms of dance, swimming with sea creatures, or waiting for a flight, Lisa is tending her orchards in Marin and the Big Island. Her gardens of vivid flowers and abundant fruit remind her that the future is always ripe with possibilities.
Lisa Alpine is the author of  Dance Life: Movin' & Groovin' Around the Globe ,  Wild Life: Travel Adventures of a Worldly Woman , and Exotic Life: Travel Tales of an Adventurous Woman . Alpine is co-author of Wild Writing Women: Stories of World Travel and Self-Publishing Boot Camp Workbook: Ten Steps to Self-Publishing Success, Read her monthly online magazine about travel, dance, writing, culture, and inspiration at https://www.lisaalpine.com